Compressed Air Filter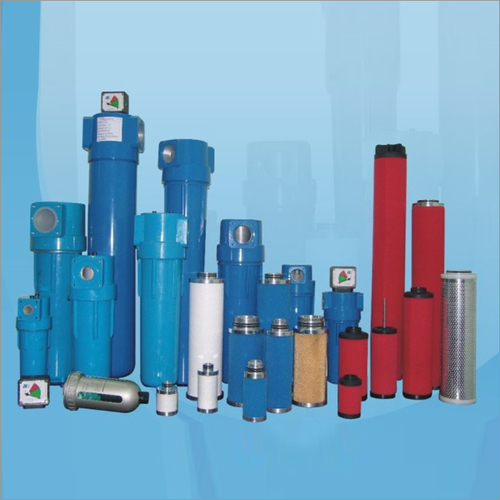 Compressed Air Filter
Price And Quantity
Product Specifications
Product Description
Pre Filter
High Efficiency General Purpose Protection for the removal of particles down to 3 micron including coalesced liquid water and oil, providing a maximum remaining oil aerosol content of 0.5 mg/m @20C
Final Filter
High Efficiency Oil Removal Filtration for the removal of Particles down to 0.01 micron including water and oil aerosols. Providing a maximum remaining oil aerosol content of 0.01 mg/m @ 20c. Use pre filter before final filter.
Filter Housings
Made out of Aluminum Pressure die Castings, pressure tested & powder coated with Manual / auto Drain Fitting and optional Pressure drop indication gauge.
Technical Data
Maximum operating Pressure with Auto Drain 16 bar g (235 psi g)
Maximum operating Pressure with Manual Drain 20 bar g (294 psi g)
Maximum Recommended operating Temperature for Pre Filter & Final Filter 660C (1500F)
Initial Dry Differential Pressure fr Pre Filter 1.0 psi & for Final Filter 1.5 psi
Initial Wet Differential Pressure for Pre Filter 1.5 psi & for Final Filter 3.0 psi
Maximum Recommended Pressure Differential for Element Change 6.0 psi
Benefits
Low operating Costs, Highest Efficiency, Simple installation and Maintenance, Long life
Additional features are: Corrosion Resistant, Compact design & optional Differential pressure indication.
Technical Specifications:
FILTER HOUSINGS

PORT IN/OUT

FLOW Bar g (

RATES@7

(100 psig)

FILTER HOUSING

DIMENSIONS MM

3 PRE FILTER

0.01 FILTER ELEMENT

ACF REMOVING

Model No

BSP

CFM

m3/hr

A

B

C

ELEMENT

ELEMENT

FILTER ELE

IEC-F16-42

I/2

42

72 95

70

270

F16-E9

F16-E5

F16-E1

F16-E1

IEC-F20-75

1

75

128

105

75

320

F20-E9

F20-E5

F20-E1

IEC-F32-170

1.5

170

289

110

75

335

F32-E9

F32-E5

F32-E1

IEC-F50-300

2

300

510

140

110

600

F50-E9

F50-E5

F50-E1

IEC-F80-800

3

800

1360

160

125

600

F80-E9

F80-E5

F80-E1